Sexual harassment is wrong. Adultery is also wrong. But in the Hughes-Payne affair, we only know for sure that one of those things took place. This incident shows why it's usually a good idea to keep your work life and your sex life separate. Because if things go sideways there are any number of ways that a scorned lover can make your life miserable, mess with your money and perhaps even derail your career.
Of course sex is one of the strongest urges known to men and women so it's not surprising that people constantly ignore basic common sense for a little slice of heaven. Sin in haste. Repent at leisure. It's just part of human nature. Making honey can get in the way of making money.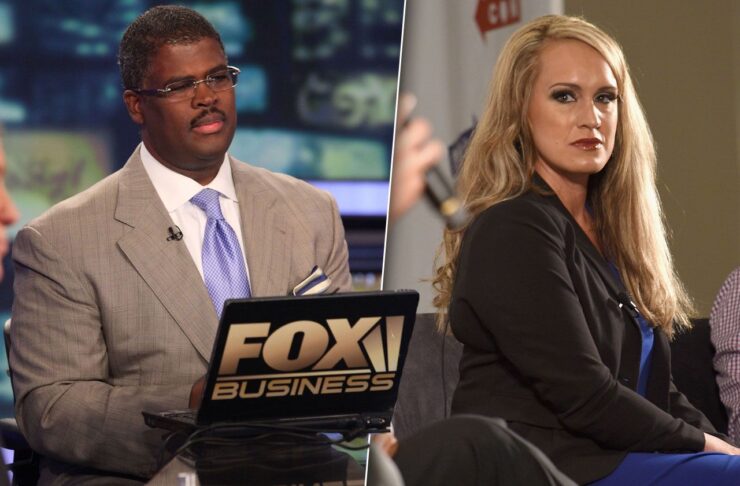 The analyst whose accusations of sexual harassment have led to Fox Business Network's Charles Payne being suspended has been identified as Scottie Nell Hughes. It emerged Thursday that Payne, who hosts Making Money, had been accused of having a three-year affair with a married political analyst who had worked for CNN. 
That woman was Hughes and their relationship was well-known within Fox News circles, ten sources told the Huffington Post. Hughes is best known for her pro-Trump appearances on CNN during last year, when she made a string of gaffes, including referring to Molotov cocktails as 'Mazel Tov cocktails'. But she also worked as an unpaid guest commentator on Fox from 2013-2016 – during which time she struck up an affair with her married father, according to the Los Angeles Times.
They barely hid their illicit encounters, apparently sharing a hotel room on a May 2015 company trip to the Money Show in Las Vegas, sources told The Huffington Post. Payne, who was hosting Making Money With Charles Payne at the event, disappeared with Hughes for 'hours' at one point, the sources claimed. And Hughes, who is also married, attended Payne's birthday party at his home in 2015, where the pair's behavior reportedly made Payne's wife uncomfortable. 
Hughes now claims that she was coerced into the relationship with threats of reprisals. But she also told her lawyer that she had stayed in the relationship because she thought he would help her land a permanent position at the network, sources told the Times. Hughes tried to talk about the situation with the former head of programming Bill Shine, who left Fox News this May – but to no avail, her lawyer says. She eventually reported the affair to Fox's law firm Paul, Weiss, Rifkind, Wharton & Garrison, when it ended in 2015, telling them of the threats she had allegedly received. She says that led to her being blackballed from the show.

But according to the Huffington Post, the channel stopped bringing her in after Payne's wife – upset by the pair's behavior at his birthday party – told Shine. He then barred her from appearing on Fox News or Fox Business, multiple insiders said, despite her vehement support for Trump making her an ideal fit for the channels.
Just from the information available right now it looks to me like this wasn't so much sexual harassment as it was something that finally became too obvious and embarrassing for the involved parties. When things like that happen sometimes people allege sexual harassment. Certainly, it looks from the outside like Fox News had an environment that was conducive both to affairs between co-workers and sexual harassment of subordinates by bosses. The leaders of a company show by their actions what is tolerated, what is rewarded, and what is disallowed.
When late long term Fox News boss Roger Ailes required skirts/dresses (and apparently pretty short ones) for female on-air talent and most of the said talent was as much famed for tight and revealing clothing as for their retrograde political opinions, that set the stage throughout the company for what was and wasn't allowed. Payne thought it humorous to wear cufflinks depicting a caveman dragging a cavewoman by her hair. Hmm. Again, I don't know if Payne did anything legally wrong. I'm no lawyer. I don't know if freezing out unpaid on-air talent because someone's wife complained is sexual harassment.
If someone willingly enters into what they think is a quid pro quo relationship but gets upset because the other person won't divorce their spouse or help them out as much as originally thought is that something legally actionable? The courts can figure all that out. I do know that Payne has to be a special kind of stupid and arrogant to bring his married sidepiece to his birthday party. Who in their right mind does that? Why humiliate/insult your wife in that way? I do know that a man and a woman who were married to other people decided to play house with each other. It didn't end well. It wasn't the first time and won't be the last.