Fifteen, sixteen, seventeen-that's jailbait
-Andre Williams
It's all very well to stand on your innocence and refuse to take a plea deal if you know for a fact that you didn't do the crime and/or are convinced that you can win at trial. Every year we hear of people who have steadfastly maintained their innocence for decades being finally released from prison because of unknown or prosecutor hidden evidence that exonerated them beyond all reasonable doubt. But on the other hand sometimes you're better off taking the plea deal whether you're innocent or not.
I think that sometimes prosecutors and judges want to make that point to people who make them go through all the trouble of having a trial. Abigail Simon, a 35-year-old tutor for students at Catholic Central High School in Grand Rapids, Michigan, recently found that out the hard way when she was convicted of criminal sexual conduct with a 15-year-old male high school student. Simon received a prison sentence of 8-25 years. She had previously turned down a plea deal that would have required her to spend just five months in jail. So sometimes you roll the dice and come up snake eyes. The whole point of statutory rape laws is that society holds that there is an age of consent.
If someone is below that age of consent you can't have sex with them. Period. End of story. This is especially the case if you are a teacher or adult in a position of authority over the child. Other than saying they've got the wrong (wo)man there really isn't much of a response to this charge. If you willingly have sex with someone underage, the news gets out and the local prosecutor is sufficiently competent and interested in the case, off to jail you will go.
The only other obvious possible defense is to argue that never mind how everything looks. You were actually the victim. You were minding your own business when out of the blue you were attacked by this underage person who proceeded to have sex with you against your will. You hated every minute of it. Now that the sex crime has been exposed you are eager to point the finger at the real offender.
Now I would certainly bet good money that somewhere sometime someone has made successful use of this defense, people being who we are. But it's something that would probably make most people laugh out loud if a male defendant tried it today. And most female defendants likely wouldn't have much better luck, especially when the prosecutor introduced into evidence tons of text messages (over 1000) showing that contrary to what they're saying now, they were quite happy to be doing the do, rolling and tumbling, and dancing the horizontal mambo.
That is they were happy to be doing all of this as long as nobody knew. It's also interesting that apparently, Simon lied about being assaulted or forced, claiming that the teen boy used threats of violence to keep her silent. It's just another example of why everyone should always wait to see what the facts are in a court of law before immediately claiming that one gender or another is always the victim or always the aggressor. Neither men nor women, boys or girls have any sort of monopoly on doing wrong.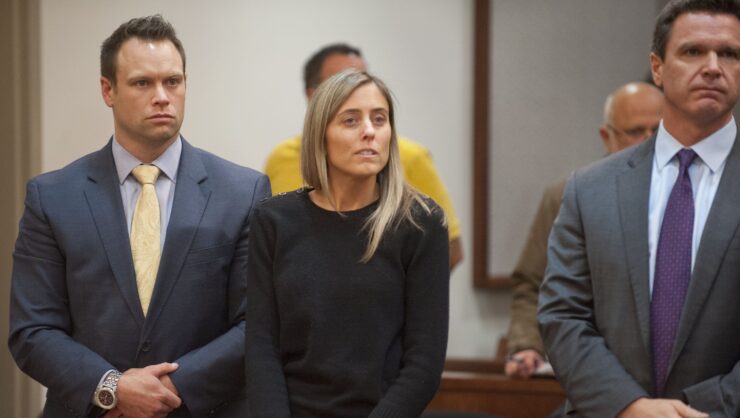 The texts are exactly what one would expect from a 15-year-old boy and his girlfriend – professing deep yearning, devastating love and unyielding desire interspersed with playful insults and jealous spats. But the texts also include Simon allegedly texting that they need to keep the relationship quiet and her bemoaning the fact that he is not of age. Then there is banter about rough sex. The woman liked to be slapped, the alleged victim testified. "She would do whatever she wanted to me and tell me what to do," the teen said in court Friday.
He said he met Simon while a student with lousy grades that could have kept him from playing sports. She helped him become an honor roll student. The two went from meeting for coffee to kissing in her car to having what he said was rough sex at her RiverHouse apartment, which he had a key to, the boy testified.
"If you were 25, I'd make you marry me next weekend," Simon allegedly texted the boy. She threatens to "murder" him if he brings girls to her apartment while she is out of town. She allegedly gave him a key to her apartment and referred to it as "our pad." "Us forever, I so hope," she allegedly texted him.